REV UP FOR SMALL BUSINESS SUCCESS
The BIZSTRONG resource center offers tools and tips from strategist and author Barbara Findlay Schenck.
Reach information on Barbara's books, online courses, and columns by clicking images and links throught the site, and also at her Amazon Author Page.
Read her columns written for Microsoft, Sprint, VISA, American Express and other business leaders on the Bizstrong Free Resources page
or in her column collection at Entrepreneur.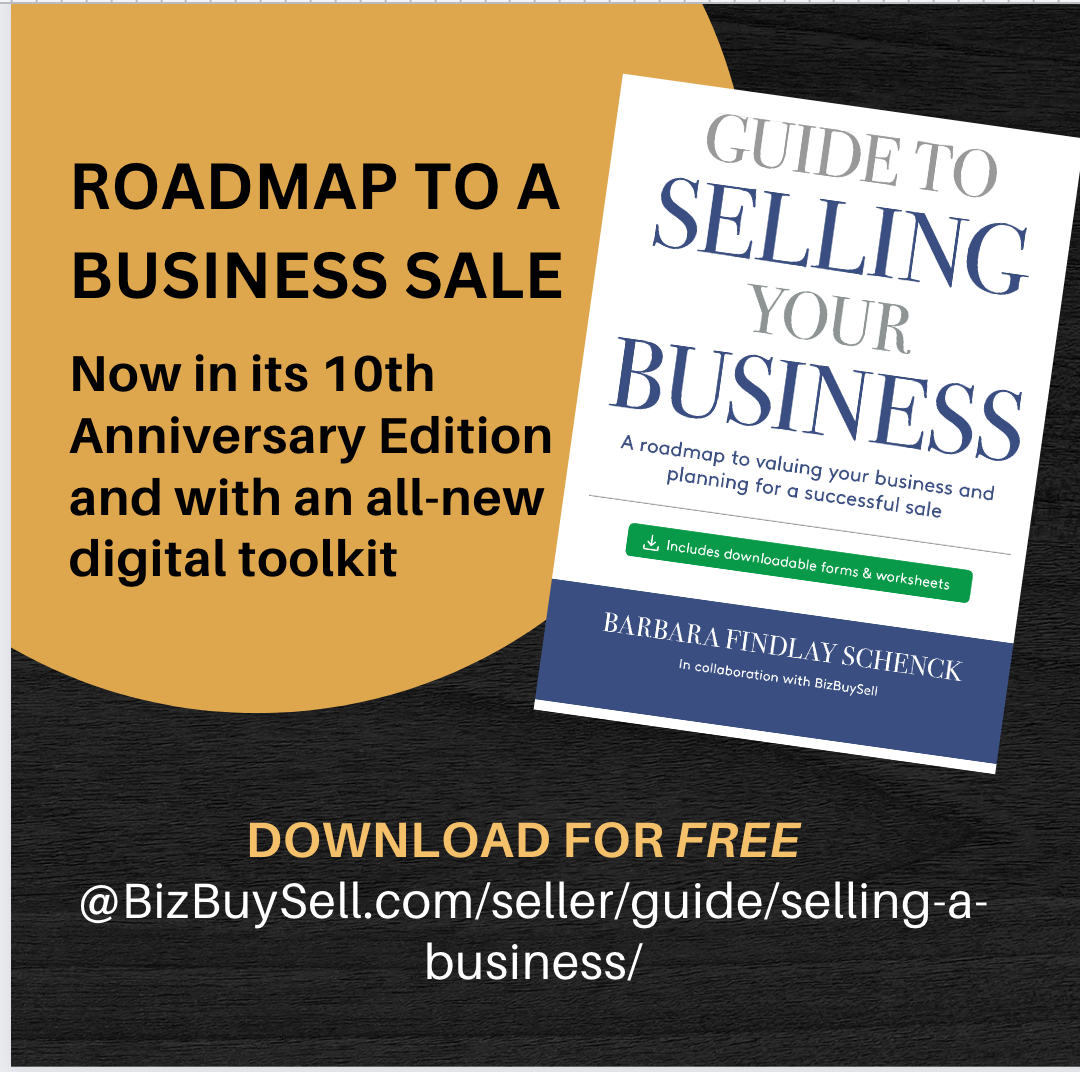 NEW IN 2023 AND NOW AVAILABLE FOR FREE DOWNLOAD
THE GUIDE TO SELLING YOUR BUSINESS, 10th Anniversary Edition
Whether you're ready to sell your business or you're plannning for the future, count on this widely read guide to steer your thinking with turn-by-turn advice.
Produced by BizBuySell, the internet's leading business-for sale marketplace, it details how to estimate and enhance business value, plot an exit plan, launch the sale process, and negotiate and close a deal.
Worksheets, charts, checklists and templates are included in the accompanying free digital toolkit.
NOW AVAILABLE AT CREATIVELIVE PROMOTIONAL PRICES
POWERFUL BUSINESS PLANNING is Barbara's 10-hour CreativeLive BUsiness Planning course,
presented in San Francisco before a live studio and global online audience.
Watch the trailer and and purchase the course,here, often at promotional prices as low as $24.

With well over a quarter million copies sold, make Business Plans Kit For Dummies, 5th Edition your blueprint for generating a business idea, mapping strategic direction, developing a plan for success, and building your business in today's ever-changing business world. Book purchase includes download access to more than a hundred worksheets and a template for designing and creating your business plan. By Steven Peterson, Peter Jaret, Barbara Findlay Schenck. Read the Cheat Sheet here.

Named "Book of the Month" by BrandChannel.com, Branding for Dummies, 2nd Edition, is your guide to what brands are, why they matter, and how to build and protect a distinctive, influential personal or powerful brand for you and your business. This book has been translated into numerous languages and is the go-to branding resource for individuals, businesses, college courses, ad agencies and marketing firms. By Bill Chiaravalle and Barbara Findlay Schenck. Read the Cheat Sheet here.

A Small Business Book Award winner, Small Business Marketing Kit For Dummies, 3rd Edition includes digital access to more than 50 downloadable forms and worksheets. Count on it for everything you need to know about what marketing is and how to write and implement your marketing plan. It also features spotlight advice from 10 small business experts. By Barbara Findlay Schenck. Read Chapter 1 here.

Make the BizBuySell Guide to Selling Your Business, 10th Anniversary Edition the roadmap to follow as you prepare to reap a final round of value from your business. The first part includes three chapters on how to estimate the value of your business, enhance its attractiveness and worth to buyers, and set the exiti plan that meets your goals. The second part includes four chapters that lead you through the process of reaching buyers, negotiating and closing a sale deal, and transitioning the business to its new ownerl.